Setting up for a CE+ Assessment with Qualys
In order to have the data required for a successful CE+ assessment within Qualys, we require a specific template to be configured, which will provide us with a CSV file containing all the data we require for review.
This article covers the setup of the "Technical Template" we will be looking to utilise.
QUALYS SETUP
With the Qualys Vulnerability Management area, select "Templates" from the menu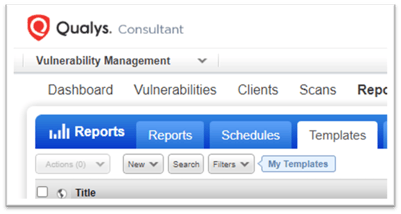 REPORT TITLE
Give your report a title

FINDINGS
Within the "Findings" settings, please set the report to "Host Based Findings"

DISPLAY
Within the "Display" settings, please set the following:
SUMMARY OF VULNERABILITIES


GRAPHICS


DETAILED RESULTS


DISPLAY HOST DETAILS

INCLUDE THE FOLLOWING DETAILS

FILTER
SELECTIVE VULNERABILITY REPORTING

INCLUDED OPERATING SYSTEMS: Leave all selected
VULNERABILITY FILTERS



INCLUDED CATEGORIES: Leave all selected
SERVICES AND PORTS
USER ACCESS
Setup or leave as default
SAVE TEMPLATE